In the online Families in Ministry course you will learn how you can thrive as a family that is "in ministry" – whether in church, in missions, or even in your child's kindergarten.
(There is a German version of this course, starting October 23rd.)
Topics include:
The daily struggle for time and priorities
Love needs a language
Strong families live with God
Coping with stress & crises
Help, we are so different!
Families and Ministry, how do we manage?
Our vision and goals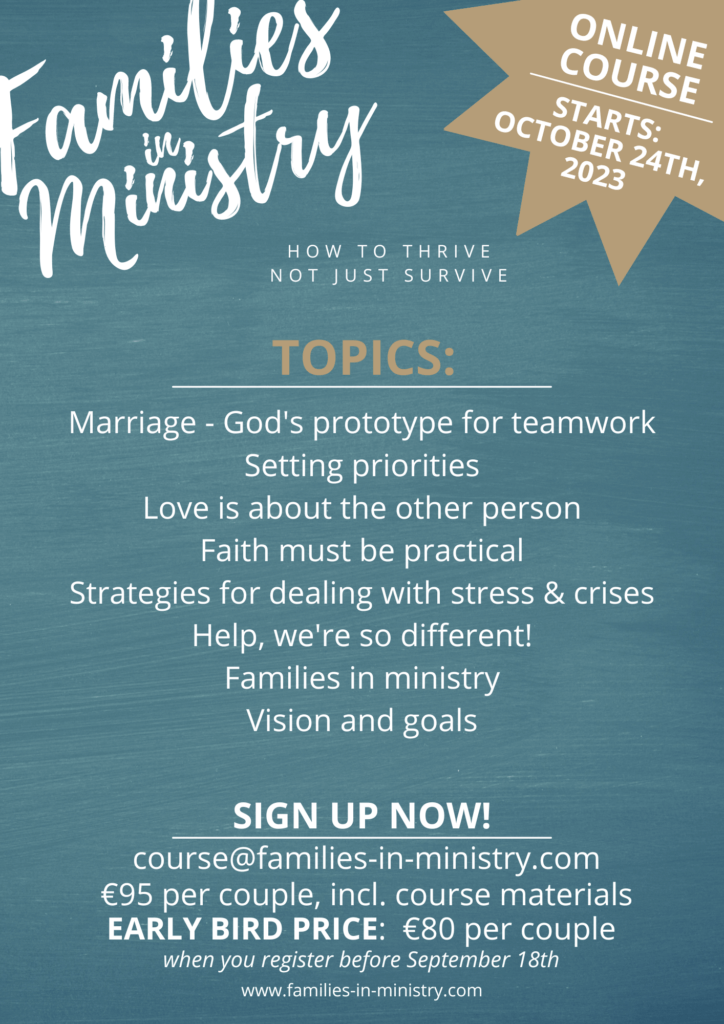 The online course consists of 8 Zoom sessions of 2,5 hours each.
Once you have paid you will receive the zoom link for the sessions and the course materials.
The next course will start on Tuesday, October 24th 2023. Depending on the participants we are flexible to move the schedule (daytime and weekday) so it works best for most of you.
The workshop costs €95, this includes the course materials. Register by October 9th.
If you sign up before the 18th of September you will get a €15 discount and pay only €80.
Read below what other participants said about the online course!
You both are a good teacher, we enjoyed your teachings even though it was through the zoom . We are engaged right now, it is helpful for us for our future plans, the teaching gives us lots of ideas to have a healthy family, family is a team and how to live in a community.
Ricky & Mawii
---
So glad we met through this FMS amazing week. You guys never let us bore even though it is online. We really enjoyed the interaction and group discussion through out the teaching. Three days is little too less for us with you guys, but it was productive and fulfilling.
Radovei & Annu
---
I enjoyed every part of your teaching! They were practical and applicable and Biblical. You mentioned several things that will be of use in our current parenting challenges. Thank you so much.
Dr. J. – India
---
Thank you so much Andrea and Angela, it is the best online teachings I have attended so far. Thank you for investing your time to us, your teachings took us to a new level.
R. C. – Nepal
---
Thank you so much Angela and Andreas for the teaching. I am really interested on your way of teaching. You got us involved and i like how you made us interact with our spouse
and with you is amazing.
Denis
---
Thank you so much for this 3 days teaching. It really helped me to reorder my priorities.
I learned a lot about how to raise up my children with good biblical values.
A. – India
---
I think it was a nice time to think and plan wisely through your teachings. I can take lot of takeaways where I can apply in my children. I liked the Family Statement banner which you let your kid drew for your family. I will definitely do it for my family!
Shritika
---
Thank you Andreas & Angela for your teaching!! Very helpful on understanding more of the importance of family in ministry.
It helps on reflecting more on how we are doing and where we need to change.
Sanda & Kosam
---
Normally i don't like online class and it's difficult for me to understand but this is the first time i learn many new things online, may God bless u n ur family t the end of ur days.
Maza M.
---
Thank you so much for your wonderful and amazing teaching and i was blessed a lot this week and i hope that i will apply in my life what you have teach me God bless you.
Yungyung 🙏🏻🙏🏻
---
The course has been healing balm to our marriage. It encourages and motivates all to see team spirit in marriage as essential in fulfilling the great commission.
And it inspired us to bring up our children as part of the family.
R&J – Nigeria.
---
We like the practical examples of your own family, the time you gave us during the sessions to have conversation together and the breakout rooms where you have to talk to another couple. The knowledge that you were praying for every couples every day is very special.
We loved the stories in the book.
S & H – The Netherlands
---
Thank you for sharing so openly about your life. The course is super practical and challenges us to think and talk about topics you might not otherwise address in everyday life.
A & J – Germany